Qred is a financial platform for small businesses and one of Europe's fastest growing fintech companies.
Company Background
A leading provider of financing and payment services to small businesses in the Nordics and the Netherlands.
The company's leading technology and automated data processing give companies a quick and easy credit assessment combined with access to personal customer service.
More than 12,000 monthly active users and has served 25,000+ businesses in Sweden, Finland, Denmark, Norway, the Netherlands, Belgium and Brazil.
Vision & Outlook
Expand Qred's business across Europe and increase international presence.
Invest in new products for responsible and inclusive lending.
Highlights & Updates
Qred ranked as the eighth fastest growing company in Europe 2020 by the Financial Times.
In 2023, Qred was once again included on the Financial Times' list of the 1000 fastest growing companies in Europe. This makes it the fourth consecutive year of inclusion for the fintech company, something that no other Swedish-founded company has accomplished before.
The company was granted a full bank license by the Swedish Financial Supervisory Authority in 2023.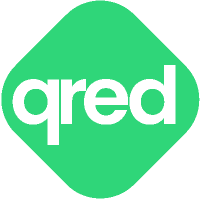 REVENUES 2022
EUR 50 million
HEAD OFFICE
Stockholm, Sweden