MAY 08 2023
Despite an economic downturn in 2022, healthcare investments continued to grow steadily. In this Q&A, Raj Shah, Partner and Head of Healthcare, and Jonas Agnblad, Partner, share Nordic Capital's views on healthcare investments.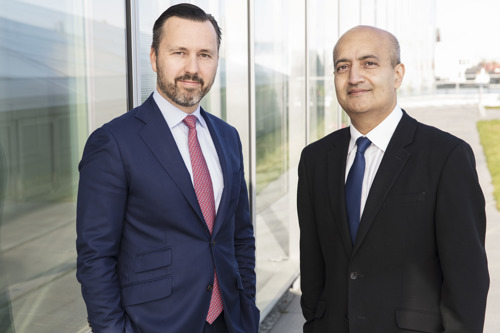 Why is investing in the healthcare space interesting?
Raj: Nordic Capital invests in companies that have potential for strong growth. Given the macro trends in demographics and increasing consumption of healthcare, this provides a resilient backdrop for growth and underlines Nordic Capital longstanding and established interest in the area. Specifically, the trends of an ageing population in the West but also in China, growing healthcare consumption, as well as the technological shift within our focus subsectors.


Jonas: Successful healthcare companies have a meaningful impact on people's lives. This ESG component forms part of our mission to build sustainable companies that can make a positive and meaningful contribution.
Why has Nordic Capital chosen specific sub-sectors in its healthcare focus?

Jonas: At an early stage, Nordic Capital identified that specialisation positively correlates with growth. We started as healthcare specialists, and since then we have drawn on our own experience and network to handpick specific sub sectors within Healthcare, MedTech, HealthTech, Pharma, and Care Services.


Raj: We've chosen to focus on the sub-sectors where Nordic Capital can most fully capitalise on our industrial networks, our track-record of success and significant experience. The combination of successful previous investments together with future growth potential further refine our focus in the sector.


What expertise is crucial when making healthcare investments?

Raj: We're certain that deep-sector knowledge and experience from investing in the sector through economic cycles are critical components. The team has been together for a long time and each member has either established expertise in the sector through repeat investments or from working in the healthcare industry. As a result, the team combines knowledge of specific healthcare business models, financial expertise as well as an appreciation of the scientific underpinning of the sector.
What are some short and long term trends within Healthcare?
Jonas: Population growth is naturally a key driver. Another trend is digitalisation, with the healthcare industry a relatively late adopter of technology. This is evident in for example the Pharma sector where digitalisation has fuelled rapid growth.

As the industry acclimatises to this and the reliability of these tools is further proven, adoption will further increase. There are two important consequences of this: Quality-of-life for patients and cost savings. Another trend is nearshoring. The pandemic was a wake-up call regarding supply chain vulnerability. Combined with other external risks such as the geopolitical uncertainties and inflation, this has led to companies undertaking increased nearshoring initiatives. Nordic Capital stands to benefit from it because of our strong presence in North America and Europe.


Raj: We see both a demographic and a technological shift. The idea that a business is dependent upon a supply chain that resides in a country that is less in tune with liberal western democracies means that somewhat of a reverse of the globalisation trend is probable. We are also seeing more cost awareness. This puts pressure on healthcare companies to identify new ways to be innovative at an affordable cost.
What role is ESG playing in this sector?

Raj: An essential role. A key challenge for the industry is how to reduce the carbon footprint of medical products. Because of hygiene requirements, products must be sterile, which in turn requires careful packaging. This, however, needs to be balanced with environmental considerations. More generally, the sector is robust in terms of governance and plays a vital role to promote social inclusion in society.


Jonas: ESG goes to the fundamental core. Patient lives and safety have always been the priority. Personally, I believe that the healthcare industry and Nordic Capital as an investor can do more to strengthen our ESG commitment.


Are increasing regulatory requirements a challenge?

Raj: The sector has always been subject to high levels of regulatory scrutiny. The affordability of healthcare products will always be an issue and challenge. Increasing data security is another one, given its sensitive nature.


Jonas: Costs are a challenge, but you can also turn challenges into opportunities. Many of our companies are helping the healthcare system to generate savings. Look at Advanz Pharma, whose mission is to provide affordable medication to patients. We spend a lot of time finding the companies that are in the best position to meet these challenges.


Bain & Company said lower profitability and deal multiples pushed public equity markets down in 2022. Can it lead to longer hold times for PE-backed healthcare portfolios in 2023?

Raj: The situation is nuanced. In my opinion, earnings are not going to be as impacted as people suspect because the ultimate driver of earnings is volume. Healthcare tends to be countercyclical and independent of economics. Governments' balance sheets are stretched. That will put inevitably pressure on pricing, but not necessarily on volume. It is true that the market is discerning but companies and business models underpinned by strong growth drivers will continue to be attractive investments.


How is PE affecting the healthcare industry positively?
Raj: The world's consumption of Healthcare is increasing. Without investment from the private markets, the inflows of capital would mainly come from governments or private individuals. PE makes up part of that shortfall, but it is important to recognise that its contribution is not solely financial but also experience, which drives innovation.

The Binding Site is an excellent example of that. At the outset of our investment, it was a founder-led research organisation which grew to become a global leader in delivering innovative medical solutions. The Company is now an industry leader in oncology testing for detecting and monitoring Multiple Myeloma. Since our acquisition in 2011, the Company grew fivefold, with more than 40 million tests sold globally. This would most likely not have been possible without Nordic Capitals' support and additive capital.