AUGUST 23 2022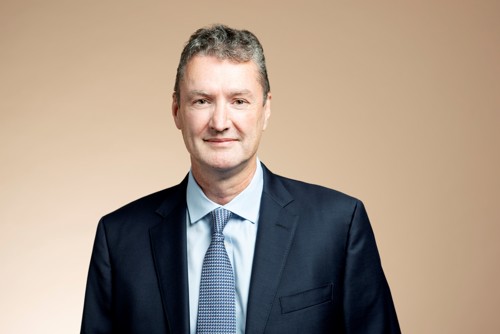 The Binding Site, a global leader in specialist protein diagnostics, has appointed Mark Stevenson as new non-executive Chairperson. As the former Executive Vice President and Chief Operating Officer of Thermo Fisher Scientific Inc., Mark will be able to draw on his extensive experience within the diagnostics and life science tools industries to support The Binding Site's continued growth and expansion.
"I am delighted to be appointed Chairperson of The Binding Site, and I am excited to support its continued growth journey as a global leader within specialist protein diagnostics. The Binding Site has great potential for further growth given its deep scientific knowledge, strong customer relationships and industry-leading products. I am looking forward to working together with The Binding Site's high-calibre management team as they continue to bring new innovations to patients and the market," says Mark Stevenson, Chairperson, The Binding Site.
Mark Stevenson was until recently Executive Vice President and Chief Operating Officer of Thermo Fisher Scientific Inc., a Fortune 100 company with over $40B in sales and a world leader in serving science through its life science solutions, analytical instruments, specialty diagnostics and laboratory products and biopharma services divisions. He joined the company as Executive Vice President and President of Life Sciences Solutions through the acquisition of Life Technologies. He has also previously served as President and Chief Operating Officer of Life Technologies, and President and Chief Operating Officer of Applied Biosystems prior to its merger with Invitrogen Corporation. He currently serves on the board of Ingersoll Rand Inc. (NYSE: IR) and the Personalized Medicine Coalition (PMC) in Washington D.C. representing innovators, scientists, patients, providers and payers, promoting the understanding and adoption of personalized medicine concepts.
"Mark is a highly experienced leader with an excellent track record in the healthcare and life science industry. He brings a unique set of skills and knowledge that will help The Binding Site to continue to scale and grow. The Binding Site has been a consistent high performer for over a decade, and the Board is enthusiastic about adding further expertise to build upon the Company's scientific leadership and support the expansion of its product offering," says Jonas Agnblad, Board Member of The Binding Site and Partner and Co-Head of Healthcare, Nordic Capital Advisors.
"I am delighted to welcome Mark to the Board of The Binding Site. The combination of Mark and his breadth of experience with Stefan and the rest of the deep managerial bench at The Binding Site will allow the Company to set new standards as part of its strategy to cement its position as the leader in protein diagnostics", commented Javed Khan, Board Member of The Binding Site and Managing Partner of Rothschild & Co.
"I am thrilled that our Board and owners are continuing to proactively support our growth plans, and I am looking forward to delivering the next chapter of the Binding Site story together with Mark," says Stefan Wolf, CEO of The Binding Site.
Since its founding by researchers at the University of Birmingham in 1983, The Binding Site has continued to build on its strong scientific foundations, supporting research and development within its field and responding to the changing needs of patients, researchers and clinicians for over 35 years. The Binding Site has consistently delivered a double-digit organic growth rate, with over 3,600 high impact scientific publications. Today, the business is a global, commercial leader in the immunodiagnostic space with an installed base of over 1,400 instruments around the world. The Company's employees are singularly dedicated to improving patient lives, by delivering innovative medical solutions that improve the diagnosis and management of blood cancers and immune system disorders.
At present, The Binding Site has over 1,100 employees located in 23 countries worldwide and generates revenues of more than GBP 170 mn. Since Nordic Capital's initial investment in 2011, The Binding Site has continued to grow its existing products through increased market penetration, especially for the main product Freelite, successfully expanded into new markets and regions and is today a global leader in specialist protein diagnostics.
Nordic Capital is the majority owner of The Binding Site and one of the most experienced healthcare investors with 33 investments across Europe and North America and over EUR 8.6 bn invested in the sector since its inception in 1989. Five Arrows Principal Investments, part of the EUR 7 bn corporate private equity business of Rothschild & Co, is an investor in The Binding Site alongside Nordic Capital and specialises in highly focussed thematic investing in healthcare and technology.
Press contacts:
The Binding Site
Mark Culwick, CFO
mark.culwick@bindingsite.com
Nordic Capital 
Katarina Janerud, Communications Manager
Nordic Capital Advisors 
katarina.janerud@nordiccapital.com

About The Binding Site:
The Binding Site is a global specialist protein diagnostics company engaged in the research, development, manufacture and distribution of innovative tests used for the detection of cancers and immune disorders. It is a business centred on the idea of working in collaboration with its partners and customers to lead the way in specialised medical diagnostics. The Company is headquartered in Birmingham, UK and has a direct presence in over 23 countries, employing over 1,100 people worldwide.

About Nordic Capital: 
Nordic Capital is a leading private equity investor with a resolute commitment to creating stronger, sustainable businesses through operational improvement and transformative growth. Nordic Capital focuses on selected regions and sectors where it has deep experience and a long history. Focus sectors are Healthcare, Technology & Payments, Financial Services, and selectively, Industrial & Business Services. Key regions are Europe and globally for Healthcare and Technology & Payments investments. Since inception in 1989, Nordic Capital has invested more than EUR 20 billion in over 125 investments. The committed capital is principally provided by international institutional investors such as pension funds.  Nordic Capital Advisors have local offices in Sweden, the UK, the US, Germany, Denmark, Finland, Norway and South Korea. For further information about Nordic Capital, please visit www.nordiccapital.com.
"Nordic Capital" refers to, depending on the context, any, or all, Nordic Capital branded entities, vehicles, structures and associated entities. The general partners and/or delegated portfolio managers of Nordic Capital's entities and vehicles are advised by several non-discretionary sub-advisory entities, any or all of which are referred to as "Nordic Capital Advisors".
About Five Arrows / Five Arrows Principal Investments:
Five Arrows is the investment arm of Rothschild & Co with €20 billion of assets under management and offices in Paris, London, New York, Los Angeles, San Francisco and Luxembourg. Five Arrows Principal Investments, one of the corporate private equity funds within Five Arrows, focuses on investing in middle-market companies with highly defensible market positions; strong management teams; business models with high visibility of organic unit volume growth and strong unit economics; as well as multiple operational levers that can be used to unlock latent value. Sectors are limited to healthcare; data and software, and technology-enabled business services.