AUGUST 25 2022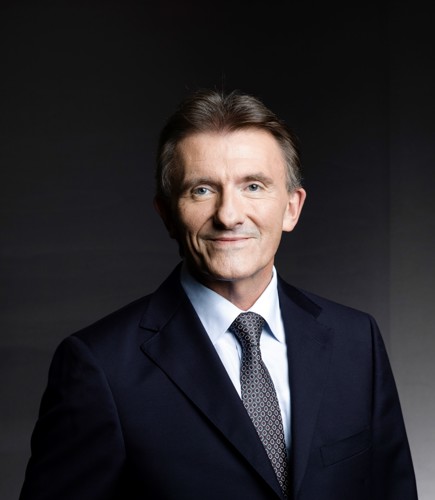 ProGlove has appointed former DHL Express CEO Ken Allen as new Chairperson of its Supervisory Board, effective August 1, 2022. He will add valuable insights and expertise to ProGlove, which has embarked on an ambitious growth journey together with its new majority owner Nordic Capital.
CHICAGO & MUNICH, August 25, 2022 — ProGlove, a global pioneer in wearable scanner solutions for innovating human-centred productivity, today announced the appointment of Ken Allen as Chair of the Supervisory Board. Ken Allen has an extensive experience of leadership in the logistics and eCommerce industry. He was with the Deutsche Post DHL Group for over 37 years in various roles and capacities, including 13 years as member of the board. Allen served as CEO of DHL Express and most recently as CEO of DHL eCommerce Solutions.
"I am excited to join ProGlove at this important point in the company's development. ProGlove has built an outstanding business and is ideally positioned to grow further. I look forward to bringing in new perspectives and supporting ProGlove's strong team, which is committed to continuing the company's success story," said Ken Allen, new Chair of ProGlove.
"With his extensive experience and expertise in logistics and eCommerce, Ken Allen will add great value to ProGlove, which has been growing rapidly since its foundation. Nordic Capital is convinced that the company is on a great track and look forward to continuing our successful cooperation with ProGlove's management team," said Andreas Näsvik, Board member of ProGlove and Partner and Head of Industrial & Business Services, Nordic Capital Advisors.
"The fact that ProGlove was able to attract such a proven expert as Ken Allen highlights the successful development of the company. With his significant international executive experience, he will enrich the next chapters of ProGlove's journey. Following Nordic Capital's investment, this is an important milestone, which will support us in our endeavour to gain further momentum and enter the next phase of growth," said Andreas König, CEO of ProGlove.
Nordic Capital has a long history of investing in Industrial & Business Services. It became the majority owner of ProGlove in June 2022 to support ProGlove's ambitious growth strategy in close partnership with ProGlove's founders and management as minority owners.
Press contacts: 
ProGlove
Axel Schmidt, Senior Communications Manager
Tel: +49-89262035036
e-mail: press@proglove.com
Nordic Capital
Katarina Janerud, Communications Manager
Nordic Capital Advisors
Tel: +46 8 440 50 50
e-mail: katarina.janerud@nordiccapital.com
About ProGlove
ProGlove is a World Economic Forum Technology Pioneer and builds the smallest, lightest, and toughest barcode scanners in the world. ProGlove's industrial wearables connect the shop floor worker to the Internet of Things. The wearables combined with ProGlove's industry analytics software platform promote human-machine collaboration and drive the digitization across the shop floor. ProGlove's customers include some of the most iconic global industrial brands, pioneers and innovators in manufacturing and production, logistics and warehousing, retail and e-commerce, and post and parcel. Founded in 2014, the company employs more than 300 people from over 30 countries with offices in Chicago, Munich (Germany), and Belgrade (Serbia). Learn more at www.proglove.com.

About Nordic Capital
Nordic Capital is a leading private equity investor with a resolute commitment to creating stronger, sustainable businesses through operational improvement and transformative growth. Nordic Capital focuses on selected regions and sectors where it has deep experience and a long history. Focus sectors are Healthcare, Technology & Payments, Financial Services, and selectively, Industrial & Business Services. Key regions are Europe and globally for Healthcare and Technology & Payments investments. Since inception in 1989, Nordic Capital has invested more than EUR 20 billion in over 125 investments. The committed capital is principally provided by international institutional investors such as pension funds. Nordic Capital Advisors have local offices in Sweden, the UK, the US, Germany, Denmark, Finland, Norway and South Korea. For further information about Nordic Capital, please visit www.nordiccapital.com
"Nordic Capital" refers to, depending on the context, any, or all, Nordic Capital branded entities, vehicles, structures and associated entities. The general partners and/or delegated portfolio managers of Nordic Capital's entities and vehicles are advised by several non-discretionary sub-advisory entities, any or all of which are referred to as "Nordic Capital Advisors".